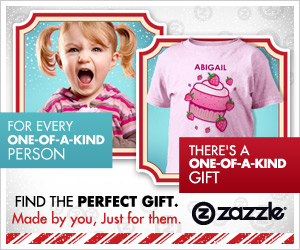 Have you ever been to zazzle.com?  My friend Susan just introduced me to it and it's got some great stuff!
If you shop tonight, you can take advantage of their current deal: 40% off shirts and cases and 15% off everything else using the code 12DAILYDEAL3.  There are sooooo many things you can make on this site!
You can make bags, buttons, pacifiers, electronic skins and so much more!  You can even make a custom skateboard!  How cool is that!
If you make something you think other people would like, you can create a store on there so people can buy it and you make money!
Check it out and let me know what you think, and post a picture if you purchase something so we can all see what you made!
This post may contain affiliate links.